Welcome to Mike's Lawn Service & Landscaping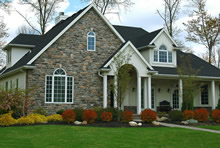 When deciding on what lawn service to use, consider these questions:
Decide what you want from a service. (We offer fertilizing, weed and lawn-damaging pest control, aerating, mowing, and small tree and shrub maintenance.)
Ask about prices and what services are included. (Some companies require a yearly contact; others work on verbal agreements that can be discontinued by the customer at any time. Find out what happens if you have a problem between applications. Will there be a charge for these service calls? We will clearly outline all services included in your package when your account is set up and can include them in a monthly contract price or bill them as separate services, added on an as-needed basis. )
Make sure the service is licensed to apply lawn-care products as required by North Carolina. We are NC Pesticide Certified. Our NC License # 026-30240
Try us with no risk and zero commitment. If you are not completely wowed by our unique service, you may walk away without any pressure or hassle.
Gallery
Lawn Care Services Offered:
Landscaping Design & Installation
Trees & Bushes
Mulch Installation
Pruning
Edging
Seeding
Aerating
Fertilization
Mowing Leaf Removal
New Construction Site Preparation
Construction Clean-Up
Erosion Control
Seed/Straw
Snow Plowing
Salting
Retaining Walls
Trenching
Patio Pavers.
For a refreshing lawn care experience call 704-472-3448 today.
You may also request a free no hassle quote by clicking here.